Expansion tank
AG expansion tanks
AG tanks are used in solar heating systems to keep system pressure constant. Before starting
up the system, adjust the tanks to align with system pressure.
Tanks are available for solar systems with areas of 6 to 200 m2.
AG tanks are mounted in either a hanging or standing position, depending on size.
Brand: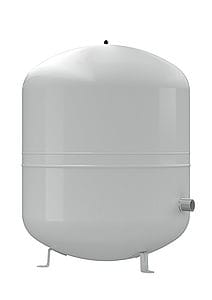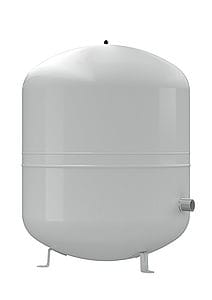 High operating temperatures
Resistant to all heating fluids
EPDM membrane
Powder coated steel plate
Max. supply system forward flow temperature: 120°C
Min. operating temperature (with appropriate antifreeze): -10°C
Max. continuous operating temperature at the membrane: 70 °C for DIN version, 99 °C for non-DIN versions
Max. operating pressure: 10 bar
Proportion of glycol in water: Max. 50%
Membrane: Butyl or EPDM, cannot be replaced, in accordance with DIN 4807 from the SAG-50 half membrane at tank centre to the AG-33 full membrane on the flange above the connection
Gas chamber: Nitrogen (fluid group 2 in accordance with RL97/23/EU)
Water chamber: Powder-coated steel plate
Colour: Red
Inner coating: None
Type of connection: Male
Initial pressure on delivery: 3-5 bar
Protective caps: On connection and valve
In all heating and cooling systems to keep system pressure constant.