EC1 Variable controller for circulation systems|EC1
Variable controller for circulation systems
The purpose of a circulation system is to provide the consumer with hot water as quick as possible when opening the tap. The pipe line system for the supply of domestic water is simultaneously used as a circulation system so that by means of the circulation pump, water is passed through the water pipes even without having to open the tap. Via a flow switch in the cold water pipe, the unit monitors the water draw off. After opening the tap for a short moment, the circulation pump is switched on and will be switched off again due to the adjusted runtime. The tap operates like a "remote control". This circulation pump control function is an eco-friendly and energy-saving solution in line with demand.
Variable controller for circulation systems with flow switch FS08
Brand: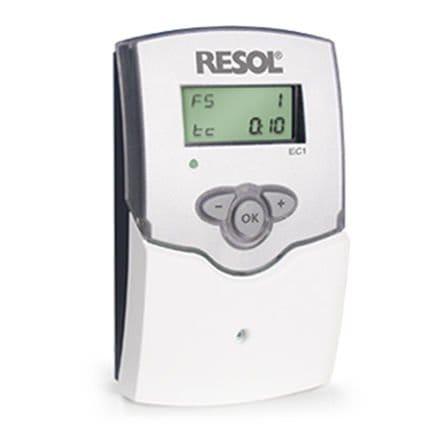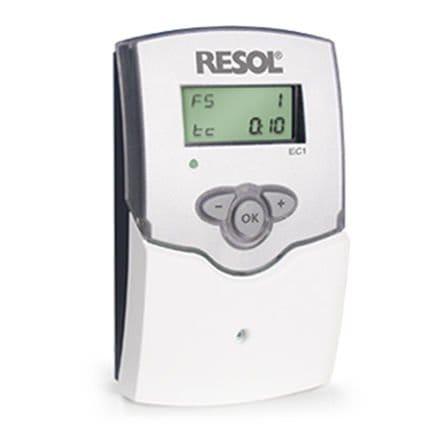 Energy savings by economic pump control
Tap station as remote control
Hot water without delay
Easy to integrate into existing systems
Inputs: 1 sensor input for flow switch
Outputs: 1 electromechanical relay
Power supply: 220 … 240 V~ (50 … 60 Hz)
Power consumption: approx. 2 VA
Housing: plastic, PC-ABS and PMMA
Mounting: wall mounting, mounting into patch panel is also possible
Indication/Display: LC display, multi-functional combined display with pictograms, two 2-digit text fields and two 4-digit 7-segment displays as well as one bicoloured led.
Operation: by 3 push buttons at the front of the housing
Ingress protection: IP 20 / IEC 60529
Dimensions: 172 x 110 x 49 mm
Controller adjustment: menu-driven