DeltaTherm® HC mini Heating controller
The DeltaTherm® HC mini offers a compact and user-friendly solution for simple heating systems. It can control a weather-compensated heating circuit and its backup heating demand. Additionally, there's a choice of 5 different operating modes, a boiler protection option and a night correction.
Due to the commissioning menu and the 4 pre-configured basic systems, configuration is quick and easy.
The chimney sweeper function and the holiday mode can be activated by pressing a single button.
Brand: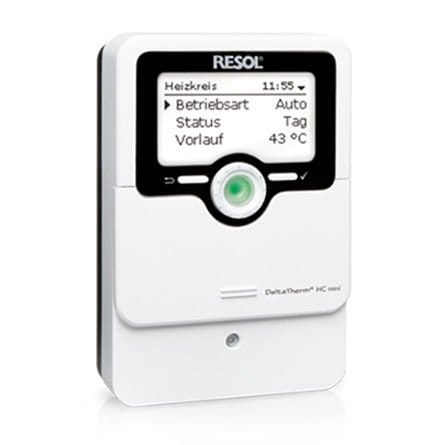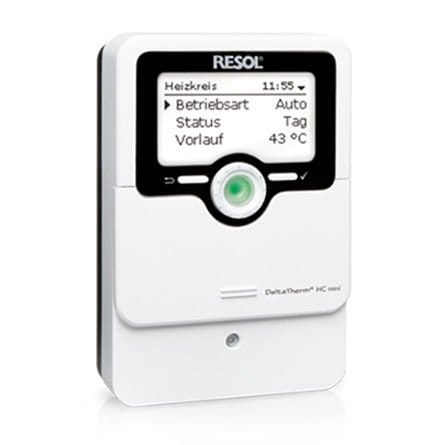 4 pre-configured basic systems
12 pre-programmed schemes for the temperature controls classes II, III, V, VI, VII and VIII
4 relay outputs (incl. 1 potential-free extra-low voltage relay)
5 inputs for Pt1000 temperature sensors
5 operating modes, boiler protection, room thermostat and night correction
Holiday mode, chimney sweeper function and screed drying function via microbuttons
Data logging, storing, easy transfer of controller adjustments prepared and firmware updates via SD card
Modulating heating control with 0-10 V boiler control
Weather-compensated control with room influence or demand-based room control with up to 3 room temperature sensors
Remote access with a room control unit or the VBus®Touch HC App
Inputs: 5 inputs for Pt1000 temperature sensors (1 of them can be converted to Switch and one of them to RTA)
Outputs: 3 semiconductor relays, 1 potential-free relay, 1 PWM output, 1 0-10 V output
PWM frequency: 512 Hz
PWM voltage: 10.8 V
Switching capacity:
1 (1) A 240 V~ (semiconductor relay)
1 (1) A 30 V ⎓ (potential-free relay)
Total switching capacity: 3 A 240 V~
Power supply: 100 – 240 V~ (50 – 60 Hz)
Supply connection: type Y attachment
Standby: 0.63 W
Temperature controls class: VIII
Energy efficiency contribution: 5 %
Mode of operation: type 1.B.C.Y action
Rated impulse voltage: 2.5 kV
Data interface: RESOL VBus®, MicroSD card slot
VBus® current supply: 60 mA
Functions: weather-compensated heating circuit control, backup heating, room thermostat, chimney sweeper function, screed drying function
Housing: plastic, PC-ABS and PMMA
Mounting: wall mounting, mounting into patch panels is possible
Indication/Display: Full graphic display, control lamp (Lightwheel®)
Operation: 4 push buttons and 1 adjustment dial (Lightwheel®)
Ingress protection: IP 20/DIN EN 60529
Protection class: I
Ambient temperature: 0 … 40 °C
Pollution degree: 2
Dimensions: 110 x 166 x 47 mm

This controller fulfills the requirements of the following ErP temperature controls classes: I and III